image via This Isn't Happiness
I'm at danger of adding to the internet echo chamber here but in case you don't know, Seth Godin is a bestselling author and highly respected blogger who writes about marketing and business, and this week he launched a new free e-book called 'What Matters Now'. It features 70 thought-provoking "mini-essays" by some of the most interesting writers around and he's made it freely available which means you can download it directly from here or head to his blog.
 I think the piece that hit home the hardest for me was Consequence by Saul Griffith, which is about the environmental impact of all of our actions – but all of them are worth reading. For a full list of the topics and authors included see Life Beyond Code, which also has an interesting A-Z of New Year Resolutions.
 If you're interested in getting hold of any of Seth Godin's other free e-books (there are quite a few) a blog called shuaism has created a handy list of them all.  
 I must be in a fairly reflective mood as a couple of pieces I read this week on mindfulness really caught my interest. Nate over at Fearless Endeavours (ok it's spelt the American way but I just had to change it to the English spelling!) has a thoughtful piece asking 'are you sleepwalking through life?'. It's a lovely piece of writing which a lot of people will relate to, especially if you've ever spent any time in London or New York – and I love this related cartoon which one of the commenters linked to: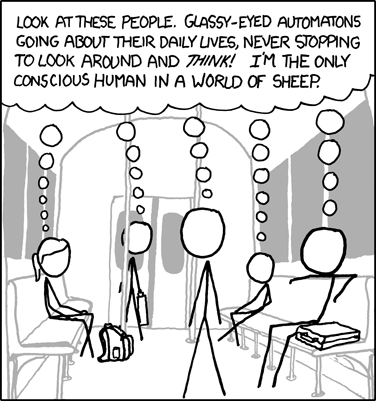 Image courtesy of xkcd
As a way of working on this tendency towards autopilot, Lateral Action's post called Why Thinking is Overrated suggests an interesting Zen meditation in which you imagine you have no head (via @TimBrownson & @markmcguinness on Twitter) and Leo at Zen Habits suggests eating a piece of fruit. Amazing how different a banana tastes when you take time to notice how it actually tastes. Seriously, try it.
Okay now I admit that I'm becoming what the Japanese apparently describe as majime, or too serious (check out Why it's time to lighten up about weird Japan at Boing Boing) so here's your weekly dose of eye candy. Anyone who prefers ogling at men will have to submit their suggestions for next week if you want some equality)
WHAT ABOUT THE MUSIC? – Coming next on Products of a Gaseous Brain: The Big Elephant in the Room that is the End of Year/Decade Lists.
 Subscribe to Products of a Gaseous Brain via RSS
 Subscribe to Products of a Gaseous Brain by Email